Mr. Peterson
July

26, 1997

- April

18, 2012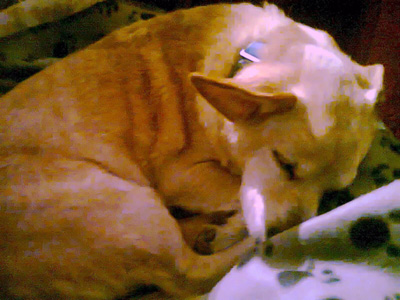 On April 18, 2012, my dog, Mr. Peterson - a cardigan corgi mix - suddenly developed a likely aggressive form of cancer. Nothing could be done for him and sadly I had to let him go.
The staff at TB Vet, especially receptionist Marliss and Dr. Panontin, extended to us the utmost sensitive care and emotional support at that incredibly devastating time. As I was led carrying my boy through the diagnostics and pharmacy area on the way to the Comfort Room, the present staff stopped their work respectfully as we passed on the way to said comfort room. It was incredibly selfless and generous.
After his catheter was inserted, Marliss brought him to me in the Comfort Room, carrying him like he was her own. Dr. Panontin was so very gentle and compassionate which made my pain and devastation somewhat easier. As Mr. Peterson was euthanized, Dr. P. stayed with us and offered her utmost sympathies and condolences. Both Marliss and Dr. Panontin are truly class acts at TB Vet, and I could not have imagined making it through those terrible moments without their kindness and understanding.
My family and I were blessed to have Mr. Peterson for 15 years. He was a good boy who thrived on both being loved and giving as much love as he could. He was protective of myself and the rest of my family, but appreciated and welcomed new friends enthusiastically. Clearly, his passing was the singular devastating thing I and my mother, who accompanied me that day, had ever experienced.
Without the care, compassion, and understanding of Marliss, Dr. Panontin, and the entire staff, my devastation would have surely become desperation. Thank you for the dignity shown to Mr. Peterson in his last moments, and for the empathy demonstrated by the staff at TB Vet.