Pet Wellness
We are dedicated to providing your pet with the best possible care. The most effective way to protect your pet's health is with preventative care. Our pet wellness and vaccination program is designed to improve your petís quality of life, potentially increase your petís life expectancy and of course, to prevent disease.
Wellness Exams
Regular wellness exams help your veterinarian develop an overall picture of your pet's health and often allow medical problems to be found before they become more difficult to treat.
During your pet's yearly wellness check-up, a head-to-toe appraisal of your pet's health is performed. Our veterinarians check your pet's eyes, ears, nose and throat, examine the teeth and oral cavity, listen to the heart and lungs for signs of disease, palpate the abdomen, examine your pet's skin and coat, and more.
These yearly exams are also an excellent opportunity for you to discuss with your veterinarian any recent changes in your pet's behavior or lifestyle.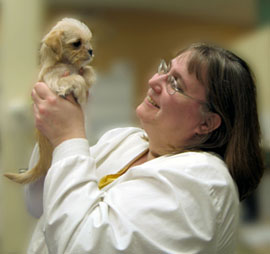 Vaccinations
Along with regular physical exams, vaccinations are a very important part of preventive health care for your pet. Many common diseases that affect cats and dogs are now preventable through the use of vaccinations.
We recognize that every pet is different and don't all require the same sort of vaccination schedule. Our veterinarians will work with you to develop a vaccination protocol for your pet that is individually tailored to his or her needs.
Some vaccines may be given annually, or less frequently including:
For Dogs: Rabies, Distemper, Adenovirus Type

2

, Parvovirus, Parainfluenza, Bordetella, and Lymes.
For Cats: Rabies, FVR, Calicivirus, Panleukopenia, and Feline Leukemia.
Parasite Control
Dogs and cats, even ones that only live indoors, can be affected by parasites. These parasites can live internally, like roundworms and heartworm, or externally, like fleas and ticks. The symptoms can range from an inapparent infection to severe life-threatening illness depending on the type of parasite and the overall health of the pet. Your veterinarian can accurately diagnose and safely treat parasites and other health problems that not only affect your furry friend, but also the safety of you and your family. Some infections that occur in dogs and cats can, unfortunately, be passed to humans. These are called zoonoses. Roundworms can be a significant cause of zoonotic disease, especially in young children and immunocompromised people. For these reasons, it is very important that we practice monthly deworming especially in the srping and summer.
Giardia is another common intestinal parasite which unfortunately, is not treated by routine monthly deworming. Therefore, it is important to conduct fecal examinations two or more times a year during the first year of life and at least once per year in adults, depending on patient health and lifestyle factors.
Puppies and kittens are especially prone to parasitism because they are easily reinfected through their environment and nursing. Also, they often harbour migrating larvae, which begin to mature and produce eggs.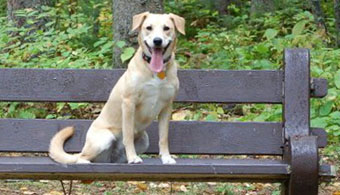 Each year, thousands of pets go missing and many are never found again. Microchipping your pet is a safe, effective way to help make sure your companion returns home safely should he or she become lost.
A microchip is about the size and shape of a grain of rice and is implanted beneath your pet's skin (usually between the shoulder blades) in a process similar to a vaccination. Every microchip is encoded with your pet's vital information, which is stored in a national pet database.
Veterinary hospitals and animal shelters across the country are equipped with special scanners capable of detecting and reading microchips. Once your pet's microchip has been scanned, the information it contains is used to reunite you and your pet.
Care For Your Senior Pet
Older pets make wonderful companions, and thanks to advances in veterinary medicine, pets are living longer than ever. Your senior pet has medical needs that are very different from puppies and kittens.
Prevention is the key to keeping older pets healthy. Symptoms of disease or a chronic condition may not be readily apparent. In some cases, conditions that may look like the usual signs of "old age" could actually be signs of a more serious problem, such as arthritis, periodontal disease, kidney failure or cancer.
We recommend an annual physical exam as well as senior pet testing. Senior pet testing is designed to assess your pets internal function and often aids in the early detection and treatment of common underlying diseases of older pets.
Nutritional Counseling
Proper nutrition is a very important part of your pet's overall health. We have many options of food to meet each and every pet's needs. Whether you are looking for a healthy food choice for your growing puppy or kitten, or nutrition to help manage a particular medical condition, we can help you make the proper choice for your pet.
Many conditions can be managed more successfully with proper nutrition. If you have a pet who is overweight, is suffering from arthritis, has a history of allergies or food sensitivities, or has suffered from a urinary tract disorder, feeding the right food can help keep your pet healthy. Our veterinarians and veterinary technicians will be happy to answer any question you have about the nutritional needs of your dog or cat.